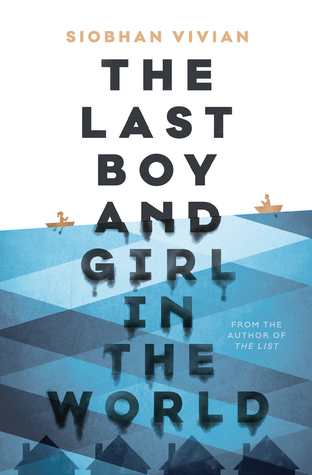 The Last Boy and Girl in the World

Author: Shiobhan Vivian

Release Date: April 26, 2016

Publisher: Simon & Schuster

Format: paperback ARC
Pages: 419
Amazon| Chapters/Indigo | Kobo | Book Depository
---
Summary:
From the critically acclaimed author of The List comes a stunning new novel about a girl who must say goodbye to everything she knows after a storm wreaks havoc on her hometown.
What if your town was sliding underwater and everyone was ordered to pack up and leave? How would you and your friends spend your last days together?
While the adults plan for the future, box up their possessions, and find new places to live, Keeley Hewitt and her friends decide to go out with a bang. There are parties in abandoned houses. Canoe races down Main Street. The goal is to make the most of every minute they still have together.
And for Keeley, that means taking one last shot at the boy she's loved forever.
There's a weird sort of bravery that comes from knowing there's nothing left to lose. You might do things you normally wouldn't. Or say things you shouldn't. The reward almost always outweighs the risk.
Almost.
It's the end of Aberdeen, but the beginning of Keeley's first love story. It just might not turn out the way she thought. Because it's not always clear what's worth fighting for and what you should let become a memory. (Goodreads)
---
Favourite Quotes:
"Things might be ending, but you still need to treat me with respect."
"But I don't respect you."
---
Review:
*I received a copy of this book in exchange for an honest review*
This is such a good read for summer! Okay, I know they haven't reached summer yet in the story but there's an abundance of rain/water and that hopeful feeling of almost summer that pretty much every student gets near the end of the year. The Last Boy and Girl in the World isn't all rainbows and butterflies though so brace yourself for some moments of intense feels!
I'll be honest, I lived vicariously through Keeley in this book. She plucked out a win for all the girls that admired someone from afar for ages and ages but never got their chance with them. I think was I liked most about her romance was that it wasn't an overly intense "we're so perfect together and will be a couple forever" pairing. It was fun and cathartic which helped both of them cope with what was happening to their community. Sometimes you just have to be a little bit silly! 😛
As a main character, I really liked Keeley. Although she was a joker to the point of overdoing it sometimes, she spoke to me on a personal level. I remember being a lot like Keeley when I was in high school. I had quite a few of the internal struggles that she did and most of my love life was just admiring from afar. My heart ached for her when she started feeling the distance between herself and Morgan; I worried for her and her family's well-being. Keeley sucked me into the story and made me care about what happened to Aberdeen in the end.
Shioban hit the mark with the main, young, male characters in this one for me. Jesse is a goofy, always-in-trouble, fun-loving guy that reminds me a lot of a little Labrador puppy whereas Levi is more serious and brooding. What I also realized, upon reflection, is that they not only represent complete opposite ends of the spectrum of behaviour but they also each represent part of Keeley's character. Yes, she's fun loving and goofs off however she also knows that some things are serious and can set to work when it's necessary. Having written both boys this way brings such a nice balance to the story, especially at the end when you have the whole experience to look back on.
The ending. Oh the ending. You pretty much know what eventually happens to Aberdeen right from the get-go, what you don't know is how they got to that point and what the context of that first little section is. It's an amazing hook! From then on I was like okay, I neeeeeed an explanation for this, like, yesterday. Then I got to the end and it was nothing like I expected. The Last Boy and Girl in the World doesn't tie up the endings in neat little packages so that you're happy and everything goes on existing smoothly. This book finishes with questions, uncertainties, memories, and FEELS. Seriously, if you like those satisfying "ahhh everything got resolved and people are happy" ending this one may not fill that need. All the uncertainty though, feels incredibly real. I think when most people finish high school nothing feels all neatly wrapped up. It's questions and adventures and coping with a million and one changes all of a sudden; and most of us don't go through what Aberdeen does! Shioban wrote what I think is the perfect ending for this story. It is an ending of reflection and it hammers home one of the main ideas in the book and the last line in the synopsis.
"Because it's not always clear what's worth fighting for and what you should let become a memory."
---
Final Verdict:
This is a great summer read. It's full of shenanigans, boys, and FEELS but also has some serious sides to it (for the rainy summer days). While I loved the ending of this book and wouldn't change a thing, I WANT A SEQUEL. I need to know what happens to the Aberdeen teens after everything. I need it. Please? 😊😊
As part of the Three Scoops of Summer blog tour, Simon & Schuster also has an awesome prize pack up for grabs! Make sure you enter and keep following along with the tour!