Hey all! I'm back again with another stop on the Three Scoops of Summer blog tour. Today is all about Morgan Matson and her new book, The Unexpected Everything. 
---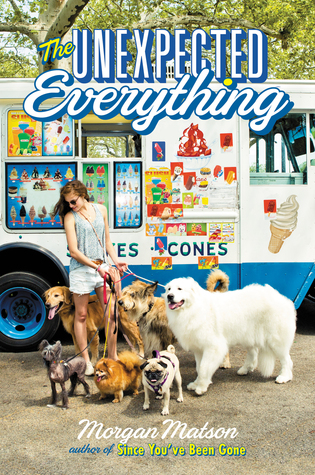 The Unexpected Everything
 Author: Morgan Matson

 Release Date: May 3, 2016

 Publisher: Simon & Schuster

Format: paperback ARC
Pages: 519
Source: IndigoTeen Summer Preview Event
Amazon| Chapters/Indigo | Kobo | Book Depository
---
 Summary:
Andie had it all planned out.
When you are a politician's daughter who's pretty much raised yourself, you learn everything can be planned or spun, or both. Especially your future.
Important internship? Check.
Amazing friends? Check.
Guys? Check (as long as we're talking no more than three weeks).
But that was before the scandal. Before having to be in the same house with her dad. Before walking an insane number of dogs. That was before Clark and those few months that might change her whole life.
Because here's the thing—if everything's planned out, you can never find the unexpected.
And where's the fun in that? (Goodreads)
---
My TUE inspired emoji text:
(Hopefully Toby would be proud!)
---
Review:
 *I received a copy of this book from an IndigoTeen preview event in exchange for an honest review. This in no way affects my opinion*
Who wants to see the reaction I had while reading/at the end of The Unexpected Everything?? It's cute, I promise.
I was legitimately as giddy as those dogs are. For all I know, I had my tongue hanging out like them too! The cover screams "Perfect Summer Read" and I can tell you that it does not disappoint. This is an actual text I sent when I was discussing my feels.
Onward with the actual review though! I'm sure you want to know why I'm so in love.
My number one favourite thing in this book is the friendship. I love everything about how the relationships between all the friends in The Unexpected Everything are written. The bond between Andie, Toby, Bri, and Palmer is the type of genuine, strong, female friendship that I think teens need to see way more often. There is no malice, no "Mean Girls"-esque backstabbing; just girls enjoying each other's company and having fun. The boys have great relationships as well. They hang out, watch movies, talk books, goof off in the water; it's also very genuine and loyal. I'm tired of underhanded friends and this is such a breath of fresh air. That being said, things weren't all puppies and rainbows (pun totally intended) with all of them and it made the story feel that much more real. They were such a great group that I felt like I was living a legendary summer with them all.😍☀
You know that I have to talk about the romance next, right? Guys, I swooned SO HARD. I think I actually almost fell over. I nearly missed my bus/subway stop many times because I was into what was happening or what I was hoping would happen. I felt so warm and fuzzy and smiley (like that puppy). Clark is total book boyfriend material. He's got a great heart, an incredibly attractive career for a good book boyfriend, a solid sense of fun, and he's totally cute. What more can you ask for?! If Andie doesn't want him, I'll take Clark off her hands.
Andie's development throughout the novel was so well done too. She starts out incredibly intent on controlling things, having a concrete plan, and attaining a long-set standard of success. Over her summer, we see her explore her preset notions of what she wants, how she gets it, and what happiness can mean. I'll give you a hint, this involves lots of dogs. By lots I don't mean 2 or 3; I mean A BUNCH. It's glorious. All the puppies!
It's incredible how quick life paths can change when you're Andie's age (or a little older) and I thought it was really cool  see that change happening throughout the book. I had a very similar experience, it just took me until the end of my first year of university to do it.
I'm going to be totally honest here, I was a little intimidated by the size of The Unexpected Everything at first. Seriously, it's huge. Not that reading large books isn't something I'm up for it's just that sometimes they tend to lag a little. The plot and pacing has to be spot on to keep my undivided attention for anything past about 400 pages. Morgan Matson nailed it in this area. Never once did I feel bored or uninterested; quite the contrary actually. I frequently found myself wanting more and more of the shenanigans this group got up to. I'd even go for another book of what they're doing now that the summer is over.
---
Final Verdict: 
As of right now, this is my Summer 2016 "theme book" (like theme song but not musical). I fully intend to read it at least one more time but most likely more than one. I see a park, a blanket, an iced coffee or 3, and The Unexpected Everything in my future. Thank you, Morgan Matson for the 500+ pages of pure bliss.
---
Don't forget to enter the Three Scoops of Summer giveaway and to check out the other stops on this month-long tour!