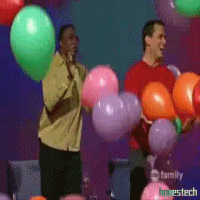 I'm a bit late due to some craziness happening in life again sadly but this little blog right here turned 1 on July 1! Champagne birthday, anyone? I can't believe it has already been ONE WHOLE YEAR!
It has been unreal and even more amazing than I could have ever imagined. Before we get to the sappy stuff, let's take a look at what my first post was!
A year later, I still stand by my love of those books! I've also had the pleasure of reading so many amazing ones since then as well.
---
I have to say, blogging has given me more than I could have ever imagined when I first started out. I'd talked to a few book people on Twitter before jumping in and they were SO nice and so cool! I was also super intimidated by them because they already had established, amazing blogs or booktube channels and I wasn't even a newbie yet!
Now, a year later, I'm so happy to say that those same bloggers are some of the best friends I could have ever asked for! I had friends before the book community but my circle was incredibly small and I never really felt like I had people that "got" the large, bookish part of who I am. I have those people now and I pretty much tear up thinking about how lucky I am!
It started out seeing different people at events and now I actually get out of my house for things other than signings. A big shout-out to all the Toronto (and surrounding areas) bloggers that I see at events all the time and all those that are further and I only get to talk to on Twitter. You know you've found your people when you tweet out in frustration and get people that are enraged with you or tweet you pictures of their cats; it's truly the little things in life that brighten your day. A special thank you to Joey, Patty, Shelly, and Tiff for dragging me out of my hermit tendencies and being there when I have 4558487698748 questions and need advice <3!
Another big thank you goes out to Jessica Gollub and Rachel E. Carter for being a couple of the first people I came in contact with and giving me two of my favourite series. You're both absolute gems and I appreciate everything! Paula Stokes, thank you for taking the time to reply to millions of pictures and videos of Peanut with some of your own fur babies.
Finally, a huge thank you to all the publishers that have worked with me in the last year. I appreciate all that you do for the book community and am very grateful to be able to review titles and squeal over books and cover reveals with you as well!
---
I can't WAIT to see what is in store for me through these next 12 months! Thank you to everyone that reads and will read my blog. You guys are also stellar! My words wouldn't do much if there was nobody to read them! Stay rad, friends ❤