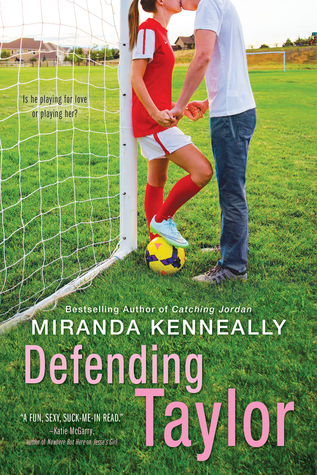 Defending Taylor

 Author: Miranda Kenneally

 Release Date: July 5, 2016

 Publisher: Sourcebooks Fire

Format: ARC
Pages: 304
Source: Raincoast
Amazon| Chapters/Indigo | Kobo | Book Depository
---
 Summary:
There are no mistakes in love.
Captain of the soccer team, president of the Debate Club, contender for valedictorian: Taylor's always pushed herself to be perfect. After all, that's what is expected of a senator's daughter. But one impulsive decision-one lie to cover for her boyfriend-and Taylor's kicked out of private school. Everything she's worked so hard for is gone, and now she's starting over at Hundred Oaks High.
Soccer has always been Taylor's escape from the pressures of school and family, but it's hard to fit in and play on a team that used to be her rival. The only person who seems to understand all that she's going through is her older brother's best friend, Ezra. Taylor's had a crush on him for as long as she can remember. But it's hard to trust after having been betrayed. Will Taylor repeat her past mistakes or can she score a fresh start?
---
Review:
 * I received a copy of this book from the publisher in exchange for an honest review. This does not affect my opinion.*
I have never read one of Miranda Kenneally's books before. I now want to read every single one. I loved everything about this book from start to finish.
I'm always weary when I see stories about rich protags falling from grace. The biggest disappointment for me is when everything gets tied up neatly for them at the end and they're barely received any consequences for what it was that they did wrong. Miranda did not disappoint. I love all the personal growth and learning that gets woven into this story. Failure is not final and for every character in this book this really rings true. It's about thinking on your feet, pushing through, finding a way, and finding what you really want.
The characters were ones I really connected with as well. Ezra was incredibly swoony. He has a very secure spot on my book-boyfriend list and I think he was a good influence to have within the story. I also really liked Taylor. Her struggle is very close to my heart when I look back on my years of balancing school, work, sports, and a social life. It's easy to lose yourself among all the commitments. You feel like you have no choice but to do everything that everyone else expects of you and often forget to take care of the small stuff and to look out for your own health/stress levels. Taylor's collapse is on the extreme end of the spectrum but Defending Taylor sends a great message to teen readers about making good decisions, taking care of themselves, and managing stress and expectations.
The timing of this book's publication was also perfect. My brain is ready for ALL the sports in the summer time and while soccer isn't the main focus of this book, the small doses coupled with the power of contemporary books in general made it a perfect warm-weather read. I know nobody wants to think about school in the summer but I promise this wont harsh your sunny day enjoyment.  
---
Final Verdict: 
This book was awesome and I highly recommend it. I'm an instant Miranda Kenneally fan and I can't wait to read more Hundred Oaks books. Pick this up, find a sunny spot at the park, and get your read on!