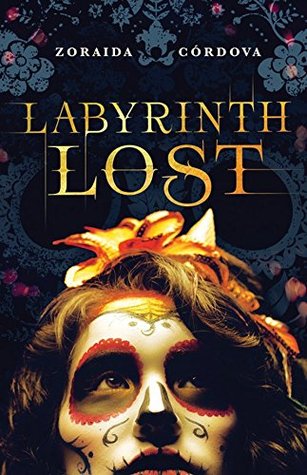 Labyrinth Lost

 Author: Zoraida Córdova

 Release Date: September 6, 2016

 Publisher: Sourcebooks Fire

Format: ARC
Pages: 336
Source: Raincoast
Amazon| Chapters/Indigo | Kobo | Book Depository
---
 Summary:
Nothing says Happy Birthday like summoning the spirits of your dead relatives.
I fall to my knees. Shattered glass, melted candles and the outline of scorched feathers are all that surround me. Every single person who was in my house – my entire family — is gone.
Alex is a bruja, the most powerful witch in a generation…and she hates magic. At her Deathday celebration, Alex performs a spell to rid herself of her power. But it backfires. Her whole family vanishes into thin air, leaving her alone with Nova, a brujo boy she can't trust. A boy whose intentions are as dark as the strange markings on his skin.
The only way to get her family back is to travel with Nova to Los Lagos, a land in-between, as dark as Limbo and as strange as Wonderland…
Beautiful Creatures meets Daughter of Smoke and Bone with an infusion of Latin American tradition in this highly original fantasy adventure. (Goodreads)
---
Review:
 *I received a copy of this book from the publisher in exchange for an honest review. This does not affect my opinion.*
UGH THIS BOOK. I wish I could read it again for the first time. Disclaimer: I hadn't read it yet when I joined the Resting Witch Face Squad but fiercely supported Zoraida and this book anyway. Let me tell you, all that hype did NOT let me down. Every time I hold this book I hug it. I went in expecting a lot of different things from this book. I was looking for a strong dose of Latin American culture, magic, adventure, romance, and no shortage of shenanigans. Labyrinth Lost delivered all that and more for me.
The family dynamic was one of the things I loved the most. Yes, Alex has a problematic view of her family and their traditions at first. I'm currently living with a teenager that I'm pretty sure thinks the rest of us are nut as well. It's not unusual for there to be friction. What counts is her eagerness to save them and the appreciation she develops along her journey for other people. Family isn't always easy but at the end of the day, they're (hopefully) always there for you and the bumps are just part of the human experience.
In terms of specific characters, I was pretty hesitant about Nova at first but he grew on me. And by grew on me, I mean I have a giant, insufferable crush on him. Sure he does some things I don't exactly condone but overall I think he's book boyfriend material. Then we have Rishi. Oh she is one of my favourite YA besties ever. She's quirky and fierce and unapologetically herself. I'm so glad that she plays a larger role in the novel because she is an absolute gem. I really loved all of Zoraida's characters but these two were especially awesome. I always love when the supporting characters burrow their way into my heart just as much as the MC does. (Side note: I'm obsessed with where the little bit of romance in this went. That's all I'll say so I don't give anything away.)
Another high point for me was Los Lagos. I got Wonderland/Forbidden Forest/Narnia/Oz vibes from it. It made me feel all the things that my favourite fictional locations make me feel. Namely, the intense desire to visit said location. I mean, okay, Los Lagos isn't exactly Cancún. It's actually pretty dangerous…but I want to go. I will trade almost anything you ask of me to be able to visit.
I wish her journey through Los Lagos and all the adventures had lasted a little longer. I was so wrapped up in it all and then had it taken away before I was fully ready. Thankfully, I know there's more to this story coming down the road but patience is NOT a virtue of mine, sadly.
---
Final Verdict: 
Overall, I'm head-over-heels in love with Labyrinth Lost. It gave me everything I went in expecting and even a little bit more. I loved the infusion of Spanish vocabulary and Latin American cultures. Labyrinth Lost is magical, exciting, and sucks you right into the story. I talk about this book with obnoxious frequency and I'm not even sorry. Make sure you get your preorders in now!