Hey everyone! I'm super excited to bring you another stop on the Darktown blog tour today! I'll be sharing my review and the lovely Simon & Schuster Canada team has a dreamcast for me to share with you all! (Spoiler alert: they're all pretty must spot on with how I'd imagined the characters while reading!) Also, check out the schedule below and make sure you pop on by for more fun stuff on the other stops (including a giveaway)!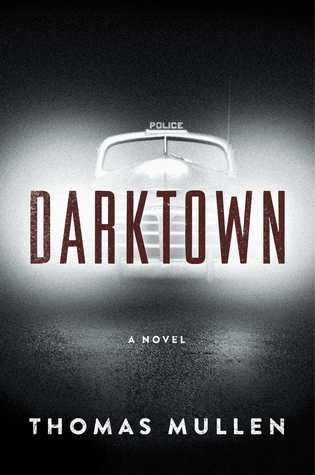 Darktown

 Author: Thomas Mullen

 Release Date: Sept 6, 2016

 Publisher: Atria

Format: paperback ARC
Pages: 384
Source: Simon & Schuster Canada
Amazon| Indigo | Kobo | Book Depository
---
 Summary: Responding from pressure on high, the Atlanta police department is forced to hire its first black officers in 1948. The newly minted policemen are met with deep hostility by their white peers and their authority is limited: They can't arrest white suspects; they can't drive a squad car; they can't even use the police headquarters and must instead operate out of the basement of a gym.
When a black woman who was last seen in a car driven by a white man turns up fatally beaten, no one seems to care except for Boggs and Smith, two black cops from vastly different backgrounds. Pressured from all sides, they will risk their jobs, the trust the community has put in them, and even their own safety to investigate her death. Their efforts bring them up against an old-school cop, Dunlow, who has long run the neighborhood like his own, and Dunlow's young partner, Rakestraw, a young progressive who may or may not be willing to make allies across color lines.
---
Review:
 Darktown is so different from what I've been reading lately. I've been living in a world of YA/MG, which I totally love, but wow this was a welcome breath of fresh air!
At the beginning of this book, I had fears that this would end up more about the political points than about the actual crime story line but Mullen ended up weaving the two together impeccably. Don't get me wrong, Darktown is very much about politics, racism, and justice and how all those things coexisted in the late 40s but the actual crime novel part of it is very present as well.
Having just finished binge-watching the second season of How to Get Away With Murder, I really appreciated the complexity of how the story developed. No crime story (novel, show, or movie) is as juicy if people don't become ridiculously entangled with one another. I don't want to say too much because spoilers suck but the story line in Darktown has it's fair share of surprises for you. I usually have a good nose for these things and I didn't see most of it coming. My skills need work.
I loved all the characters in this one too; even the ones I hated. I don't want to just dislike a "bad guy"…I want to loathe him. I had very strong feeling about all the predominant characters in this one and it made my reading feel that much more real. I was especially impressed with Boggs; I felt that he would bore me to tears if I knew him as a real person and yet he felt incredibly dynamic and real while reading him. It wasn't that the writing of his character was boring; he just happens to be someone I would find boring to hang out with. Why do I get so emotionally attached to fictional people?!
Story and fictional people aside, the reality of what this book described was incredibly eye-opening. Naturally, I had some idea that it was not a good experience living as a black person in the south. Seeing the reality here was definitely hard. The beatings, the 'befriending' (I use this term lightly) of black people by white cops when it served them, the indifference, the willingness to find any black person as a fall when they needed something solved…it's atrocious. There is a lot of offensive terminology used throughout the book but I did not find it excessive. The portrayal felt authentic and sadly, the use of the N-word and other slurs was incredibly commonplace in the 40s so it's presence in Darktown did not come as a shock.
---
Dreamcast:
Back in January it was 
announced
 that Jamie Foxx was teaming up with 'Ghostbusters' producer Amy Pascal to produce a TV crime drama adaptation of 
Darktown
. While there has been no new updates since, we've got our fingers crossed that we will see Boggs, Smith, Dunlow and Rake come to life on the small screen. And what better way to pass the time then by imaging our ideal cast? Here are our picks!
Chadwick Boseman as Lucius Boggs
The Black Panther as Officer Boggs? We can dream! We see similarities between these two characters' personalities, both with their defiant attitude and desire to do right by their people. Not to mention Boseman has a history of portraying significant black men in history (Jackie Robinson and James Brown), and while Boggs is fictional we still think it would be fitting for Boseman to play one of the first black officers in Atlanta.
Anthony Mackie as Tommy Smith
If we're wishing for one Avenger, we might as well ask for two! Mackie has the magnetism and charisma to bring Officer Smith to life. We can certainly see him falling out a window post-coitus with a married woman. At the same time Mackie can bring a level of intensity required to deal with shady moonshiners and crooked lawmen, as he displayed in The Hurt Locker.
Vincent D'Onofrio as Lionel Dunlow
If you've seen Netflix's Daredevil, then you know D'Onofrio is a master to portraying the bad guy with controlled rage just below the surface, waiting to erupt into shockingly violent outbursts. And D'Onofrio is no stranger to the crime drama having played Detective Robert Goren on Law & Order: Criminal Intent for a decade – he'll have the cop lingo down pat.
Casey Affleck as Dennis Rakestraw
We first fell in love with Casey Affleck in another book to screen adaptation, Gone Baby Gone. Based on Dennis Lehane's bleak procedural, Affleck portrays a private investigator whose boyish looks exacerbates the policemen's hostility and disdain. The baby-faced Affleck is exactly how we imagine young Rakestraw, a young progressive cop who may or may not be willing to make allies across color lines.