On August 21, I had the pleasure of heading to the Harpercollins Canada office in Toronto for their preview event! I had never been to a Frenzy Presents event before so I had no idea what to expect but I was pretty sure it would be great!
It was an awful day to travel around the city so I ended up being 5-10 minutes late but thankfully they were just starting the presentation as I got in. I just had to be patient for my chance to peek at the awesome snacks they set up for us 😛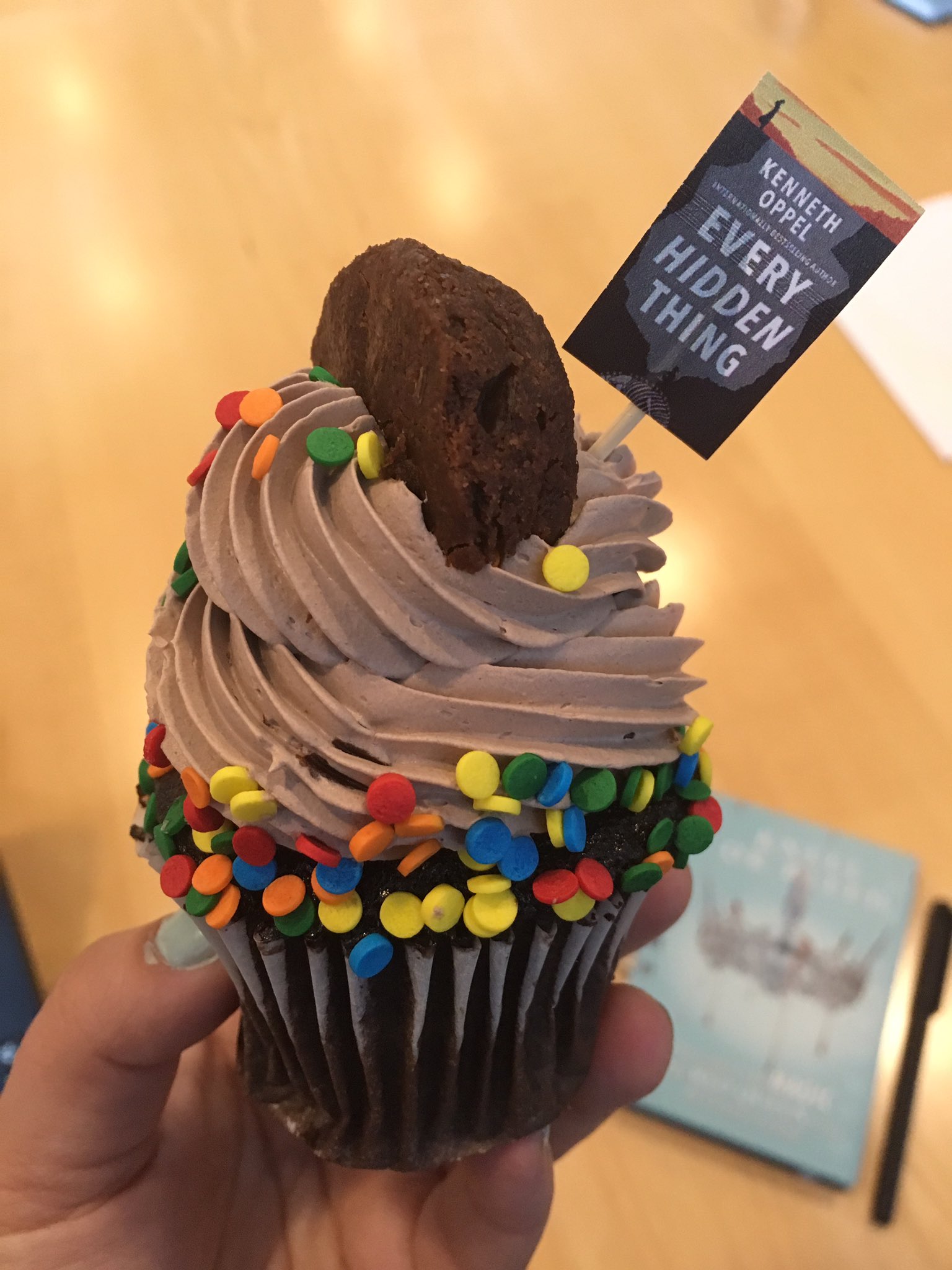 Kenneth Oppel cupcakes. Yeah, they had those. They had other book covers as well but most people know my obsession with Ken so obviously I picked this one!
The lovely Frenzy team thought ahead and had amaaaaaaazing Red Queen notebooks at each seat for us to take notes while they presented what was coming in the next months. (The very same notebooks I fangirled over at the Indigo preview…SO HAPPY FOR ANOTHER ONE!)
Now, what did I choose to take notes on? Buckle up, friends, because there are some AWESOME titles coming.
Based on me freaking out over notebooks, I'm sure it comes as NO surprise that this is basically my most anticipated not just from Harper but in general for 2017. I'm freaking out that I have to wait until February for this.
Also, my public reaction:
Aside from King's Cage, there were a ton of other titles that I'm super excited for! (Titles link to Goodreads & I'll include my scribbles from the presentation where applicable.)
Girl Mans Up by M-E Girard
* video games, ninja turtles, tough decisions, bro code > Nerd cool > NEED
The Queen of Blood by Sarah Beth Durst
* YAASSS > bad ass chick
Bright Smoke, Cold Fire by Rosamund Hodge
Of Fire and Stars by Audrey Coulthurst
* engaged to prince in kingdom that doesn't allow magic but she has power > falls for Prince's sister > ALSO NEED
The Valiant by Lesley Livingston
* Kick ass girl MC > Romans/Caesar > **Request now > NEED
Fireworks by Katie Cotugno
* successful women supporting each other > BSB, Spice Girls…nostalgia
The Upside of Unrequited by Becky Albertalli
Three Dark Crowns by Kendare Blake
---
The team also brought 2 amazing guests for attendees to meet and have books signed by! M-E Girard, author of Girl Mans Up, was there to speak to us about her book and sign advance copies at the end. She's super fun and I was SO stoked to read her book after hearing her talk.
The second guest…OMG, friends. I fangirled. Hard.
The Silverwing trilogy was just as large a part of my childhood as Harry Potter was. I still have my original copies and have since bought different editions as well. I'm so excited that I got to hear him talk about Every Hidden Thing and get a copy signed. I'm currently reading it and so far loving every second.
---
This was such a great event and I can't thank the Frenzy team enough for inviting me. I walked away with some of my most anticipated titles and a whole list of new books to put on my radar!