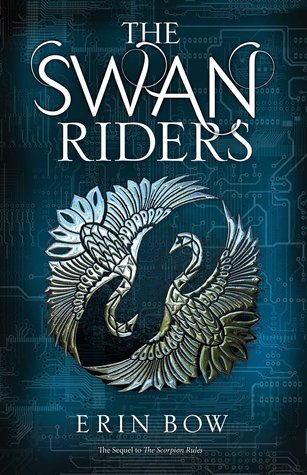 The Swan Riders

 Author: Erin Bow

 Release Date: Sept. 20, 2016

 Publisher: Margaret K. McElderry Books (Simon and Schuster)

Format: ARC
Pages: 384
Source: Simon & Schuster Canada
Amazon| Chapters/Indigo | Kobo | Book Depository
---
 Summary:
Greta Stuart had always known her future: die young. She was her country's crown princess, and also its hostage, destined to be the first casualty in an inevitable war. But when the war came it broke all the rules, and Greta forged a different path.
She is no longer princess. No longer hostage. No longer human. Greta Stuart has become an AI.
If she can survive the transition, Greta will earn a place alongside Talis, the AI who rules the world. Talis is a big believer in peace through superior firepower. But some problems are too personal to obliterate from orbit, and for those there are the Swan Riders: a small band of humans who serve the AIs as part army, part cult.
Now two of the Swan Riders are escorting Talis and Greta across post-apocalyptic Saskatchewan. But Greta's fate has stirred her nation into open rebellion, and the dry grassland may hide insurgents who want to rescue her – or see her killed. Including Elian, the boy she saved—the boy who wants to change the world, with a knife if necessary. Even the infinitely loyal Swan Riders may not be everything they seem.
Greta's fate—and the fate of her world—are balanced on the edge of a knife in this smart, sly, electrifying adventure. (Goodreads)
---
Favourite Quotes:
The Swan Riders swung down from their mounts while I sat on mine, unable tomove my rigid legs and contemplating colorful ways in which I could murder Talis for doing this to me. (ARC pg. 17)
The Swan Riders should be mostly silent, it said. They are way creepier that way. (ARC pg. 19)
"Okay," said Talis. "We're equals, but you're a dewy-eyed moron." (ARC pg. 43)
*Talis picking right back up with the sass!*
"Look," said Talis. "We could at this point be defeated by a pair of determined goats, or a toddler with a stapler!" (ARC pg. 178)
*GOATS!!!*
"Yeah: I'm a demon with fifteen-pound balls." He paused. "That kinda came out wrong." (ARC pg. 200)
---
Review:
 * I received a copy of this book from the publisher in exchange for an honest review. This is no way affects my opinions.*
I had to wait less than a year in between reading The Scorpion Rules and The Swan Riders. It felt like I waited a decade. Let me tell you, this did not disappoint and was well worth the pain of waiting. My only major complaint has nothing to do with the actual book. I was in a bit of a reading slump when I started it (I started lots of books but couldn't seem to finish any) so my reading of this companion novel was choppy to say the least. All my friends were like, "Oh no! You're not done?! You were so excited for it." It was all me. I can't wait to be able to read The Scorpion Rules and The Swan Riders back to back one day.
I found this book to be a lot more complex than The Scorpion Rules. That's not to say that the first book was light but The Swan Riders really hits hard. Erin takes a lot of time exploring humanity, what it means to be human, and the darker side of all that. We are a messy species, that's for sure. It's not a definitive discussion on these topics (but I don't think any book could be) but The Swan Riders can definitely get you thinking.
Talis is back in all his sassy glory in this novel, as evident in my favourite quotes, but we also get to see a new side of him throughout the story in The Swan Riders. We also get to see more of the AI's interaction with his Swan Riders (in case the title didn't give that away) and understand that dynamic between Lord of Sass and his squad. To say that it's complex would be an understatement but hey, whatever works for him! Speaking of Swan Riders…I FRICKIN' LOVE FRANCIS XAVIER OMG!
I'm going to be totally honest, at a lot of points during Swan Riders, I was sitting there like "what in the name of Gordon Lightfood is going on here?!" I was so incredibly confused at points but the different with Erin's story is that I was totally okay with it. I usually need all the answers and don't like being in the dark about things I think I should fully understand but being a little confused actually added to the 'atmosphere' of the book for me. Examining humanity and what it is that makes us human is not a cut and dry investigation. There are conflicting personal opinions, moral disparity, basic cultural differences…and this can differ between countries, provinces, cities, neighbourhoods or even something a small as from household to household. There is no way that this an easy topic to explore and navigating through Swan Riders is justifiably just as messy of a journey.
As usual, Erin infused some quirky things that are impossible not to love in the story. Horses named Gordon Lightfoot, Heigh Ho Uranium, and NORAD, some goat cameos, and new interesting AI friends just to name a few.
---
Final Verdict: 
I eagerly awaited this book and was not disappointed in the least. The Scorpion Rules and Swan Riders will forever be two of my favourite books for their eccentricity, complexity, and, of course, Talis.
Thank you, Erin Bow!