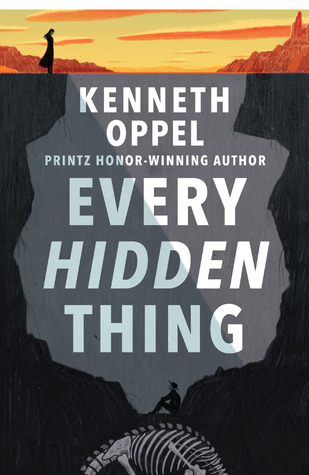 Every Hidden Thing

 Author: Kenneth Oppel

 Release Date: September 20, 2016

 Publisher: HarperCollins Canada

Format: Paperback ARC
Pages: 368
Source: HarperCollins Canada
Amazon| Chapters/Indigo | Kobo | Book Depository
---
 Summary:
Somewhere in the Badlands, embedded deep in centuries-buried rock and sand, lies the skeleton of a massive dinosaur, larger than anything the late nineteenth-century world has ever seen. Some legends call it the Black Beauty, with its bones as black as ebony, but to seventeen-year-old Samuel Bolt, it's the "rex," the king dinosaur that could put him and his struggling, temperamental archaeologist father in the history books (and conveniently make his father forget he's been kicked out of school), if they can just quarry it out.
But Samuel and his father aren't the only ones after the rex. For Rachel Cartland this find could be her ticket to a different life, one where her loves of science and adventure aren't just relegated to books and sitting rooms. And if she can't prove herself on this expedition with her professor father, the only adventures she may have to look forward to are marriage or spinsterhood.
As their paths cross and the rivalry between their fathers becomes more intense, Samuel and Rachel are pushed closer together. Their flourishing romance is one that will never be allowed. And with both eyeing the same prize, it's a romance that seems destined for failure. As their attraction deepens, danger looms on the other side of the hills, causing everyone's secrets to come to light and forcing Samuel and Rachel to make a decision. Can they join forces to find their quarry, and with it a new life together, or will old enmities and prejudices keep them from both the rex and each other? (Goodreads)
---
Review:
 *I received a copy of this book from the publisher in exchange for an honest review. This does not affect my opinion.*
I have made it no secret that I adore Kenneth Oppel. He's had rock star status for me since I was in elementary school and fell in love with his Silverwing series. That being said, I was nervous going into this book. Naturally, I wanted to adore it because, hellloooo, Kenneth Oppel but I was also nervous because that's how I get when authors I love publish new books. I want to love every word they ever write but I know that odds are I'll eventually find one I don't love so I'm always on high alert. Every Hidden Thing was not that one! I loved it. As a child, I dreamed of discovering dinosaurs specifically but also just digging up old stuff in general; I was fascinated by ancient cultures.
One of the titles mentioned when pitching this book is Romeo and Juliet and that likeness is evident very early on. Feuding paleontologist fathers (seriously, punches are thrown), kids falling in love, sneaking around to see each other…it's Shakespear but a little less graceful. Rachel and Samuel are less the poetic love and hardships from Shakespeare's plays and more the clumsy "What the heck am I doing? How does this work?" relationship I remember from my teenage years. Actually, okay, Samuel is a love-sick puppy pretty quickly but there's still lots of the awkward "does he/she like me?" and "OMG I like this person…what do I even say to them?" going on and it made me a little nostalgic for my high school romances. Only a little though. I wont tell you if Kenneth kept all the death of Will's plays though (ugh, spoilers) so you'll just have to crack it open and find out for yourself. 😉
While I know very little about the science and finer details of studying dinosaurs and other old stuff, I can tell you that those scenes felt very authentic. I think I almost scratched at my own arms a few times because I had a case of phantom mosquito bites. I felt like I was out there with them, in the heat, looking around for super old bones and praying to the dinosaur gods above that I don't break one. Although I went through my dinosaur/paleontology phase when I was really young, I wish I had a book like this (minus the older, teenage topics) because I would have geeked out SO HARD.
I didn't get as invested in the individual characters as I usually would; I think because I didn't see a whole lot of myself in either (aside from the dinosaur thing…YAY DINOSAURS). This didn't take away from the story for me though. I still had to know if they would find the rex and had to know if they would be able to continue their forbidden relationship without one of them having the snot beat out of them for disobeying their fathers. I hit the last 20 pages of the book right when I had an absolutely ridiculous 3 days and couldn't finish the book until that weekend was over. It was pure torture not knowing how it ended.
---
Final Verdict: 
Every Hidden Thing ended up being exactly what I hoped it would. There was a lot of focus on the romance, yes, but I still got so many freakin' dinosaurs and lots of excitement and adventure. Considering I don't do well in the wilderness, this was a great way to live my paleontology dreams vicariously through someone else while sitting safely and comfortably on my couch.  Also, look at the stunning cover. JUST LOOK AT IT!