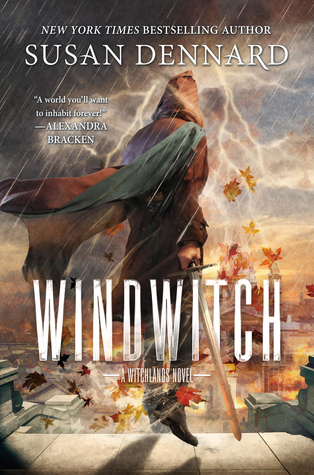 Windwitch

 Author: Susan Dennard

 Release Date: January 10, 2017

 Publisher: Tor Teen

Format: paperback ARC
Pages: 400
Source: Raincoast Books
Amazon| Chapters/Indigo | Kobo | Book Depository
---
 Summary:
After an explosion destroys his ship, the world believes Prince Merik, Windwitch, is dead. Scarred yet alive, Merik is determined to prove his sister's treachery. Upon reaching the royal capital, crowded with refugees, he haunts the streets, fighting for the weak—which leads to whispers of a disfigured demigod, the Fury, who brings justice to the oppressed.
When the Bloodwitch Aeduan discovers a bounty on Iseult, he makes sure to be the first to find her—yet in a surprise twist, Iseult offers him a deal. She will return money stolen from him, if he locates Safi. Now they must work together to cross the Witchlands, while constantly wondering, who will betray whom first?
After a surprise attack and shipwreck, Safi and the Empress of Marstok barely escape with their lives. Alone in a land of pirates, every moment balances on a knife's edge—especially when the pirates' next move could unleash war upon the Witchlands. (Goodreads)
---
Favourite Quotes:
There were advantages to being a dead man.
Merik Nihar, prince of Nubrevna and former admiral to the Nubrevnan navy, wished he'd considered dying a long time ago. He got so much more done as a corpse. (p. 14)
---
Review:
 *I received a copy of this book from the publisher in exchange for an honest review. This does not affect my opinion.*
I read Truthwitch early last year and immediately hated myself for it because then I had so much longer to wait for book 2! I've said it before and I'll say it again…I'm always so nervous when I'm anticipating a book that much because I fear it'll let me down. Windwitch did nothing of the sort. It didn't give me exactly the effect I had been expecting but I love what it delivered so freakin' much anyway.
All my favs were back from Truthwith; Safi, Iseult, Merik, Aeduan, Vaness. They also all give me feels like they used to. Along with my loves, Susan also gave me a new character to despise and fear with such force that I think even Iseult would be shocked by how vibrant my threads for those feelings are. She made me fume. I loved it. The changes in POVs and story lines changing constantly throughout the book also never allowed me to fall into a rut while reading. Just as the pace was slowing with one arc, the story would switch to somewhere else. At first it felt very hectic but I quickly fell into a rhythm once I got used to it happening and it actually ended up adding to the story for me.
OMG GUYS THE SHIPS. I spent 99% of the book shipping people so hard that I was blinded to other things happening and had to force myself to focus. I was not expecting so many shippy feels from Windwitch but they happened…and I'm totally okay with it. Please, don't sink my ships like Merik's and Vaness' ships. Please, Susan.
The one thing that threw me with this book is that, as the title suggests, this is Merik's book but I didn't really connect that strongly with him. Yes, he gave me feels and I wanted things to turn out alright for him; he's still my precious Merik after all. I just ended up more invested in the Safi/Vaness and Iseult/Aeduan arcs in the story.
---
Final Verdict: 
Overall, I really loved Windwitch. There have been times when book 2 in a series has fallen flat for me (second book syndrome) and felt more like it was just building up to the next book but has nothing going on for itself. This book has none of that. Windwitch is exciting in it's own right and still very successfully built intrigue for Bloodwitch. Oh yeah, book 3 has a title. It'll be Aeduan's book and I have the worst case of GRABBY HANDS right now.