The Toronto Book Tag was created by Joey from Thoughts and Afterthoughts and Ambur from Burning Impossibly Bright. Compare books to your (least?) favourite parts of Toronto living!
"The Six"– A book with numbers in its name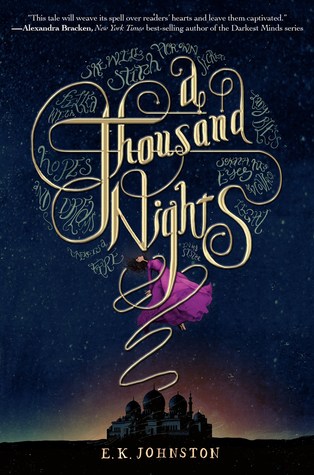 A Thousand Nights by E.K. Johnston. Do I get bonus points for picking a Canadian author too? Side note: I love this book. The inside is as beautiful as the many different editions of this book available.
"Queen Street" – Favourite bookish merch
BOOK SLEEVES! Oh.My.God. I love these things. I currently own 4 and my 5th in whizzing it's way to me now. My two favourites are the Book Biff and Book Beau. Both shop owners are also super sweet and I adore them.
"CN Tower" – The tallest/biggest book on your shelf
Goodreads lists this edition at 766 pages. I totally thought ACOMAF would be the longest but J.K. has it beat!
"The DVP" – Most well read/worn out book you own
My original edition of this book from when I was in elementary school is so beat up, the pages are yellowing, the spine is creased. I think it may *actually* be in worse shape than the DVP. Okay, just kidding.
"TTC" – A book that took too long to get to where it should
Interestingly enough. I ended up DNFing this book 100 pages in after the MC finally got off the stupid train that took up the first 20% of the book. "We are currently experiencing a delay on Line 2: Bloor-Danforth due to a massive info dump. Enjoyment of this book has been suspended. Shuttle buses are running."
"Toronto Sports Teams" – A book you expected to like but felt let down by (or your choice of Leafs, Jays, Raps, etc.)
The ending of this disappointed me more than the Toronto Argos 5-13 season in 2016…
"Lake Ontario" – Favourite fictional map
I get even more bonus points because Lake Ontario is actually in this picture! I'm not necessarily enamoured with the basics of the map but this print of it I received from HarperCollins Canada is stunning. I'm looking forward to framing it and hanging it like the art that it is!
"Torono? Teronno? Tomato? Toronto!" – A character name you found difficult to pronounce
For the longest time I read Ryiah's name as Ree-ah…it's actually Rye-uh. Four books later, I still struggled to pronounce it correctly in my head while reading. Apparently I'm not the only one though so I don't feel as bad!
There you have it! I tag any bookish people that know the Toronto struggle to take part in this!