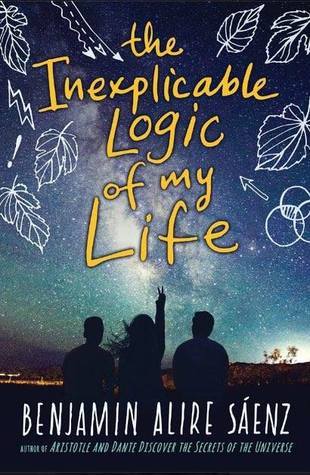 The Inexplicable Logic of My Life
 Author: Benjamin Alire Sáenz

 Release Date: March 7, 2017

 Publisher: Clarion Books

Format: paperback ARC
Pages: 464
Source: Raincoast Books
Amazon| Chapters/Indigo | Kobo | Book Depository
Summary:
From the multi-award-winning author of Aristotle and Dante Discover the Secrets of the Universe comes a gorgeous new story about love, identity, and families lost and found.
Sal used to know his place with his adoptive gay father, their loving Mexican-American family, and his best friend, Samantha. But it's senior year, and suddenly Sal is throwing punches, questioning everything, and realizing he no longer knows himself. If Sal's not who he thought he was, who is he?
This humor-infused, warmly humane look at universal questions of belonging is a triumph. (Goodreads)
Review:
 *I received a copy of this book from the publisher in exchange for an honest review. This does not affect my opinion.*
Well, I cried. I'll put that out there right from the start. It's not often that a book makes me cry but there I was, in bed with my cat staring at me like I was an alien. 
The Inexplicable Logic of My Life is a beautiful, hit-you-in-the-feels coming of age story. All the characters were pushed to their limits and had to learn how to not only build themselves up but also support and build up those they love. 
The concept of love in this story was also incredibly refreshing. Yes, there was romantic love talked about but that wasn't the focus. Instead the main spotlight was on the unconditional love we have for family and those closest to us. For Salvador, this included his friends Sam and Fito. Seeing both of them welcomed by his family as one of their own definitely pulled on my heartstrings. 
I have to address Vincente, Salvador's dad on his own. He's hands down one of my favourite characters I have EVER encountered. He's fierce but kind. The love he has for Salvador is incredible and the way he freely love those around him is brave and admirable. Oh my goodness and his telling off another parent is so "OH SNAP" worthy I almost yelled it out in a full bus. (I've excluded the quote because I don't want to spoil it😝)
I also felt particularly connected to Mima. By the end of the book, I almost felt like she was my own grandmother. She's kind, wise, loving, and loves to feed her family (much like Greek grandmothers are also known for!😍).
The trials and hardships each character suffers through really bring out amazing growth in all of them. It's a lot to process in one book but that's also reflective of life sometimes. There's a reason "bad things happen in 3s" is a popular saying. 
Final Verdict: 
I really loved The Inexplicable Logic of My Life. It's full of diversity, emotion, growth, and friendship. I highly, highly recommend it!
*click below to read an excerpt*