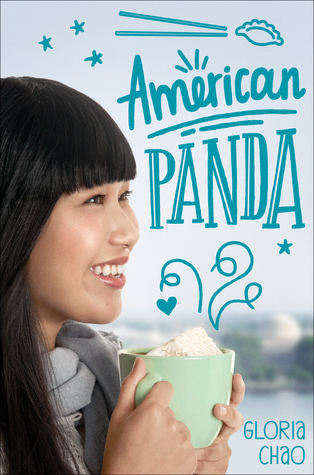 American Panda
 Author: Gloria Chao

 Release Date: February 6

 Publisher: Simon Pulse

Format: Paperback ARC
Pages: 320
Source: Simon&Schuster Canada
---
 Summary: An incisive, laugh-out-loud contemporary debut about a Taiwanese-American teen whose parents want her to be a doctor and marry a Taiwanese Ivy Leaguer despite her squeamishness with germs and crush on a Japanese classmate.
At seventeen, Mei should be in high school, but skipping fourth grade was part of her parents' master plan. Now a freshman at MIT, she is on track to fulfill the rest of this predetermined future: become a doctor, marry a preapproved Taiwanese Ivy Leaguer, produce a litter of babies.
With everything her parents have sacrificed to make her cushy life a reality, Mei can't bring herself to tell them the truth–that she (1) hates germs, (2) falls asleep in biology lectures, and (3) has a crush on her classmate Darren Takahashi, who is decidedly not Taiwanese.
But when Mei reconnects with her brother, Xing, who is estranged from the family for dating the wrong woman, Mei starts to wonder if all the secrets are truly worth it. Can she find a way to be herself, whoever that is, before her web of lies unravels? (Goodreads)
---
Review:
*I received an advance copy of this book from Simon&Schuster in exchange for an honest review. This does not affect my opinion.*
Poor Mei. I can't imagine having so much ride on you following a predetermined path that has nothing to do with what you want. I would have broken down long before I reached post-secondary education for sure. I loved how this was a typical coming-of-age story delivered in an atypical manner and infused with so much culture. We're used to seeing the "I don't know what to do with my life or where to go to school" narrative but it was interesting to see someone grappling with already being at their school of choice and not knowing what to do. (Hands up if you also changed majors 🙋🏻‍♀️ picking your life path ain't easy at the best of times.)
Another part I really liked was the way the author incorporated culture even in small ways. The use of Mandarin words intermittently during Mei's narration as well as during dialogue gave it an authentic feel. As someone fluent in three languages, I definitely experience moments where my thoughts are littered with random Spanish and Greek words in the middle of an otherwise completely English sentence. It sometimes even happens in spoken-sentence. The code-switching struggle. I was at first thrown off by not knowing what the words meant but after a couple of pages I got into the flow and was able to figure things out mostly from context; for the rest? Well why else do I have an iPhone practically attached to me? 😝
I was very impressed by Mei's growth by the end. Expectations from your parents are hard to handle sometimes but I can only imagine the pressure with a culture with such long-standing and revered traditions connected to abiding by your parents and showing them respect. I loved seeing Mei learn to also appreciate and stick up for the things she values as important and try to find a balance between her family's culture and the culture she's immersed in at school and with friends.
This was such an awesome coming-of-age story. I was rooting for Mei to blossom into her best self the whole way through! The culture and Mandarin infused into the story added an extra element of intrigue to the narrative as well.
(Click to go to the rafflecopter to enter!)