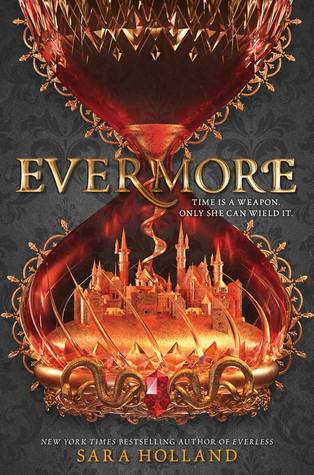 Evermore (Everless #2)
 Author: Sarah Holland

 Release Date: December 31, 2018

 Publisher: HarperTeen
Format: eGalley
Source: Glasstown Entertainment
---
 Summary:
Jules Ember was raised hearing legends of the ancient magic of the wicked Alchemist and the good Sorceress. But she has just learned the truth: not only are the stories true, but she herself is the Alchemist, and Caro—a woman who single-handedly murdered the Queen and Jules's first love, Roan, in cold blood—is the Sorceress.
The whole kingdom believes that Jules is responsible for the murders, and a hefty bounty has been placed on her head. And Caro is intent on destroying Jules, who stole her heart twelve lifetimes ago. Jules must delve into the stories that she now recognizes are accounts of her own past. For it is only by piecing together the mysteries of her lives that Jules will be able to save the person who has captured her own heart in this one. (Goodreads)
---
Review:
*I received an advance copy of this book from Glasstown Entertainment for this blog tour in exchange for an honest review. This does not affect my opinion.*
Look, I was not prepared to give up on my disdain for Liam, okay? I was prepared to throw cut-eye at him from the shadows forever but somehow Sara made me like him within 20% of this sequel. Sigh…my willpower needs work. I wanted to hug him by about 30%. *shrug*
I've been eagerly awaiting Evermore since I finished Everless and all the twisty turns and such had been revealed. I'd had a sneaking suspiciou about where the Sorceress and Alchemist storyline was going and when it played out I was like OOOOO JULES IT'S ABOUT TO GO DOWN. I really liked how the sequel delved further into the relationship and long history between the two figures. Sara also had me as soon as Jules started figuring how to fully use her power and started doing some really cool sh*t with it! I did miss seeing the time as currency idea in this one but it didn't detract too much for me because we still got lots of magic anyway. 
I'm still not entirely sure how I feel about the romance we're given in Evermore but maybe that's residual feelings toward Liam or for my ship that tragically sank in Everless (sighhhh). I absolutely loved getting some new characters in this one and have an especially soft place in my heart for Elias. 
Without giving too much away, I'll say I was extremely satisfied by this sequel. Jules learned how to do even cooler things with her already cool power, there was an adventure, history, and there were even some incredibly stupid decisions that wreak havoc on characters' plans (because we're all human and make bad choices sometimes…or often)
AUTHOR GUEST POST
Do you have a dream cast for the Everless series?
Haha, I always have a tough time with this question. I'm perpetually behind on the latest TV and movies, so I'm not as familiar as I'd like to be with today's actors and actresses. Plus, if I ever had the amazing fortune to see EVERLESS brought to the screen, I would love for it to be a vehicle to launch unknown actors!
However, that said, I've been loving the recent spate of YA adaptations we've seen hitting the big and small screen lately–from DUMPLIN' and TO ALL THE BOYS I'VE LOVED BEFORE to SHADOWHUNTERS and THE DARKEST MINDs. I loved Zoey Deutch in VAMPIRE ACADEMY and BEFORE I FALL; though those two characters are wildly different, she has in both a mix of fragility and quiet strength that I imagine Jules having too. I loved Robert Sheehan's hot-nerd vibe as Simon in CITY OF BONES, and could see him as Liam, if he got a little more grumpy and standoffish! And stepping outside the world of YA for a moment for Caro, I love Catriona Balfe as Claire in OUTLANDER–she has that mysterious aura, a smile that says *I know something you don't*. (And also like Caro, she never seems to age! 😉 )
At the end of the day, though, I don't have a set headcanon, and would love for readers to bring their own interpretations! That's one of my favorite things about books: that every single reader will create a different version of the world and characters in their mind. Every reader multiplies the magic.